Welcome to JEREMYKINGFX.com.
JEREMY KING has spent over 20 years designing and building diverse special effects and models for films such as Lost In Space, The Avengers and TV productions from Thomas The Tank Engine to Red Dwarf and countless commercials. Recently he has supervised the effects for films including Lock Stock And Four Stolen Hooves and Jack Brown And The Curse Of The Crown. He has also supervised pop promo effects for Travis, All Saints, Fat Boy Slim, Elton John and Moby.

An increasingly diverse work schedule has seen more work for events, presentations and exhibitions leaving the workshops and delighting a wide variety of clients

Whether a short-lived prop for a film or a precision-made mechanism for a long-running exhibition, our aim is not only to fulfil our clients' requirements, but to amaze them with our creative versatility.
SERVICES WE PROVIDE: SPECIAL EFFECTS, MODELS & DESIGN, SPECIAL CONSTRUCTION & INTERACTIVE EXHIBITS.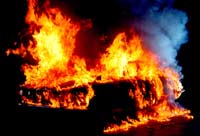 Burning Jaguar!
Fibreglass Helicopter Model.